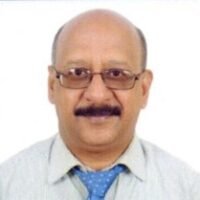 G C Vijayakumar, professor at CIIRC, holds Ph.D. in mechanical engineering from VTU together with an MBA in financial management from Southeastern University, USA, and M.E. in machine design from Bangalore University.  He has a combined experience of 38 years in academia, research, and industry in India and abroad. His experience spans academics/training management and administration, undergraduate (B.Tech.) and graduate (M.Tech., MBA) teaching, training need analysis, life skills and behavioral skills training, content design/development and delivery, faculty/trainer recruitment/selection and appraisal, vendor management, feedback design and implementation, faculty/management development programs, and strategic learning initiatives. While in the industry, he has held senior positions such as Vice President and Head – Training in an US$2billion, SEI CMM Level 5 organization in Muscat, Sultanate of Oman; Vice President – Projects and Processes and Vice President – Strategy and Programs in an organization within the international education and training space; Country Head – Training in an engineering design software distribution and implementation company; and, Training Manager in VIT University. He has a great flair for both teaching/training and active research; students receive him very well. His teaching interests include fluid mechanics, hydraulic machinery, design of machine elements, strength of materials, applied thermodynamics, I C engines, financial management, securities and portfolio management, and other management courses. His primary areas of research include analysis and prediction of business failure, general management, tribology, and thermal engineering. He has published several papers in both mechanical engineering and financial management in national and internal journals.
He has trained at organizations/institutions such as Bahwan CyberTek LLC, Muscat; CMR Institute of Technology; Centre for American Education Pvt. Ltd.; Dell Computers; Trent Ltd. (A Tata Enterprise); The Oxford College of Engg.; Prabhavati Builders and Developers Pvt. Ltd.; PES Inst. of Tech. and Mgmt., Shivamogga; RV College of Engg.; Unisys Ltd.; and  VIT University, Vellore.
An indicative list of his training programs he has conducted include Assertivenessand Aggressiveness, Business Communication, Business Etiquette, Emotional Intelligence, Communication & Presentation Skills, Email and Telephone Etiquette, Emotional Intelligence, Leadership Skills (Managing to Leading), Conducting Effective Meetings, Conflict Management & Resolution, Creative Problem Solving, Effective Delegation, Effective Interviewing and GD skills, Managing and Leading Change Successfully, Strategic Decision Making, Team Building and Team Management Skills, Unwind to Rewind (Stress Management).
Vijayakumar is life member of ISTE and CSI, and a member of IIPE, ISTD and AIMA. His other interests are Sudoku, Kakuro, predictive astrology, horary astrology, and the stock market.
Email Id: vijay.gc@ciirc.jyothyit.ac.in